really ahhh
I finally finished that great big writing project I mentioned last week. That included staying up until 3 a.m. Saturday night revising it and hours more today putting on the final touches.
This is what I felt like all week: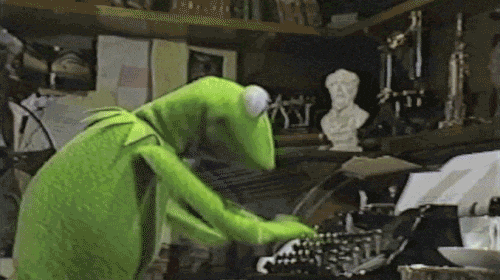 (I always have a typewriter in my blog visuals, but this is the first GIF!)
One reason it took so long was that academic writing is new to me. And I'm figuring a lot out on my own. I don't completely understand academic writing's underlying structure. If you can't see the bones, writing feels laborious. But once you unlock what I call the skeleton mystery I think writing feels like play.
That's why with my students I always try to demystify writing structures, as in my take on cover letters: 1) Here's big picture why I'm right for the job, 2) Let me tell you a little more about why I'm right for the job, 3) Here are some details about why I'm right for the job, 4) Did I mention I'm getting/have a degree? 5) (Softly) here's why I'm a good fit. 6) I'll be following up.
"Writing is thinking made manifest," according to Ellen Goldberger, a professor at Mount Ida College. That has stuck in my head since I first heard it about a year ago. But to make your thinking manifest, it helps to know the order. We can think (and write) so much quicker when we've trained our brains how to organize our thoughts. I tell my Reporting I and Media Relations & Strategic Writing students that after I'd been a reporter for awhile I could write a 10-inch inverted pyramid story in 10 minutes if I had to. Because I'd practiced it over and over. Because I'd trained my brain to think in that structure.
Not every writing structure is as formulaic as the inverted pyramid. Blogging, which requires voice and taking a stance, is trickier. But I'm hoping students are at the point in the term where it's starting to feel a little easier. Those first few (okay, 100) go-rounds with a new style of writing are challenging. Sometimes it feels like work. Then you get a peek at when it feels like play. And the mystery begins to unravel.
Here's your insPiRation – keep it up!
Tech…
From 2017, All new Mobile Phones in India Will Have Panic Button For Women's Safety (Mashable)
Should Apple and Samsung do this in their other markets too? What would be the PR value? (Based on our discussion of CSR these week, what else would companies have to consider when making this decision?)
Sports…
In Johnny Manziel, Failure as Entertainment (The New York Times)
What role has PR played in Manziel's demise? What responsibilities do PR professionals have toward people in the public eye who are not their clients? How has social media changed the way image is constructed?
College sports… sports…
Officials: North Carolina Must Show Proof of Discrimination-Free Zone or Lose NCAA Tournament Games (ESPN.com)
What does this move by the NCAA say about its audiences? Are there any PR risks for the NCAA in taking this stance when some say college sports don't do enough to welcome and protect LGBT athletes?
Tourism…
North Carolina and Mississippi See Tourist Backlash After L.G.B.T. Laws (The New York Times)
Discrimination is now bad PR. for locales, meaning a potential loss of tourism. How have things changed? How can localities balance politics and PR?
Tourism…aviation…
Content We Love: KAYAK's Data Storytelling Hacks Summer (PR Newswire)
Discuss how and why KAYAK used data to create stories and then put out content and press releases about it. Is this the future of PR?
Aviation…
How Horizon Air, The Airline You Didn't Know Was Based in Portland, Is Shaping PDX's Future (The Oregonian)
If you were the PR director for the PDX airport, how might you capitalize on this?
Aviation… Fashion…
Fashion Gets Its First Official Airline (The New York Times)
Is this a smart PR move for Etihad Airways? Will fashionistas really cleave to an airline they may never have heard of?
Fashion…
The Olympic Fashion Unveil Begins (The New York Times)
"The opening ceremony has turned into something of a catwalk, and everyone has an opinion on whether their country's look is the right one. This is especially true if part of your country's identity is wrapped up in being the home of fashion." Talk about this – how is fashion public relations for countries competing at the Olympics? How has social media changed Olympic fashion's importance?
TV & Cinema…
Kelly Ripa Comes Back to 'Live' (NPR) and
The Morning Show Wars, Kelly Ripa and TV's Disposable Spring (Variety)
How did this debacle turn into a PR disaster for ABC? Can gender equity in the entertainment industry gain steam without celebrities like Kelly Ripa taking a stand?
Women's Fitness…
Petition Calls For Standardized Abuse Awareness Training For Yoga Teachers, Appeals To Yoga Alliance (Yoga Dork)
Does yoga have a PR issue when it comes to sexual abuse or does the public view it as just a case of a few bad actors? Is this latest scandal at Jivamukti different because it's alleged female-on-female abuse?
Beverage…
Message to Bernie Sanders: There's Nothing Populist About Soda Pop (The Huffington Post)
Whether or not you support Bernie Sanders, discuss the PR conundrum he's in: If he is anti-soda tax, he'll be portrayed as not caring for the health of low-income people, yet if he is pro-soda tax, his opponents will chip away at his populist label. How is the mayor of Philadelphia succeeding with his message here? How can the anti-big soda movement use PR to win its goals?
Wine…beverage…
See the Wine Photos of the Year 2016 (Decanter)
The winning photo of Errazuriz Wine Photographer of the Year 2016 competition was shot at Maysara winery in Oregon. How would you capitalize on this if you ran PR for Maysara? More generally, how can photography as a medium help wine marketers, especially in the age of social media?
Event planning…
Queen Elizabeth's Party Planner Is Proud to Wear $35 Shoes (The New York Times)
What great event planning tips did you pick up from this profile of Lady Elizabeth Anson? (And can you believe she may have invented the RSVP card?) How does Lady Anson construct her own image – and why does it matter for her work?
Nonprofits…
Charities Spent 4c On Advertising For Each $1 Raised (The NonProfit Times)
Discuss some (not all!) of the findings in this report. How has the business of raising money changed for nonprofits with the advent of the Internet? How do different sectors market differently? How can the nonprofit field as a whole create some good PR for itself from the article's headline?
Ad & PR…
Brands Post Tributes to Prince, But Struggle to Make Them Heartfelt and Not Promotional (Ad Week)
Cheerios Faux Pas Spurs Angry Reactions From Prince Fans (The Wall Street Journal)
Is it ever okay for a brand to try to capitalize on an icon's death? What PR risks do they face? How can brands join a cultural conversation without alienating audiences?
Race…
UO Taking Action on African American Student Issues (uoregon.edu)
What do you think about this announcement from UO? How do you think various audiences may react? More generally, what are the PR minefields and opportunities for universities trying to address institutional racism or lack of equal opportunity in their history (or present)?
Environment…
How One Activist Combines Impactful Art and Advocacy to Save the Earth (Mashable)
Art is often seen as portraying a message or political… but rarely explicitly as advocacy. What is the role of art in advocacy, particularly in the environmental movement? In other words, how can art help advance environmentalist's message?
Up in Flames: Kenya Burns More Than 100 Tons of Ivory (NPR)
This is apparently a successful event that has been repeated. Why? What's the PR value? What did you think of the diplomacy PR issues? And do these protests have an actual effect on poaching? And is there a PR problem in polluting the earth with burning and using so many resources to protest a different environmental issue?